Seamonkey is de voortzetting van de voormalige Mozilla Application Suite en bestaat uit een op Netscape gelijkende webbrowser en programma's om te e-mailen en rss-nieuws te lezen, en wordt gecompleteerd met een eenvoudige html-editor.  Seamonkey wordt door de community onderhouden, overzien door de Seamonkey Council.
De SeaMonkey browser heeft min of meer dezelfde eigenschappen als Firefox. Firefox heeft echter een geïntegreerde zoekbalk, is gebruikersvriendelijker, start wat sneller en oogt wat frisser. De losse onderdelen van SeaMonkey zijn ook te verkrijgen als Firefox (browser), Thunderbird (mail en news) en Kompozer (wysiwyg html-editor).
Changelog:  
Changes:
You were unable to add or edit properties for images and links in the 2.49.1 Composer. The problem, has been fixed.
SeaMonkey now uses gtk3 on Linux. If you experience a problem because of this please file a bug and link it to Switch Linux builds to GTK3 with SeaMonkey 2.49. Pleae try another OS theme first. Some of them are buggy and cause problems with SeaMonkey, Thunderbird and Firefox.
With some Linux themes, the menulist- and history-dropmarker didn't show. It was actually there but only 1 pixel wide. The problem, has been fixed. As a result the dropmarker in the location bar is now also shown a little wider under Windows.
Scrollbars didn't show the buttons under Linux. The problem, has been fixed.
WebRTC has been disabled by default. It needs an add-on to enable it per site.
The active title bar was not visually emphasized under Linux or using the Windows XP/Vista/7 Classic theme. We opted to show it with a striped color bar.
For security, parts of bug 1035091 were ported in bug 1411708. This might cause problems with add-ons like Stylish which use moz-document.
Set the pref "layout.css.moz-document.content.enabled" to "true" to overcome this but be aware that this disables the added security fix.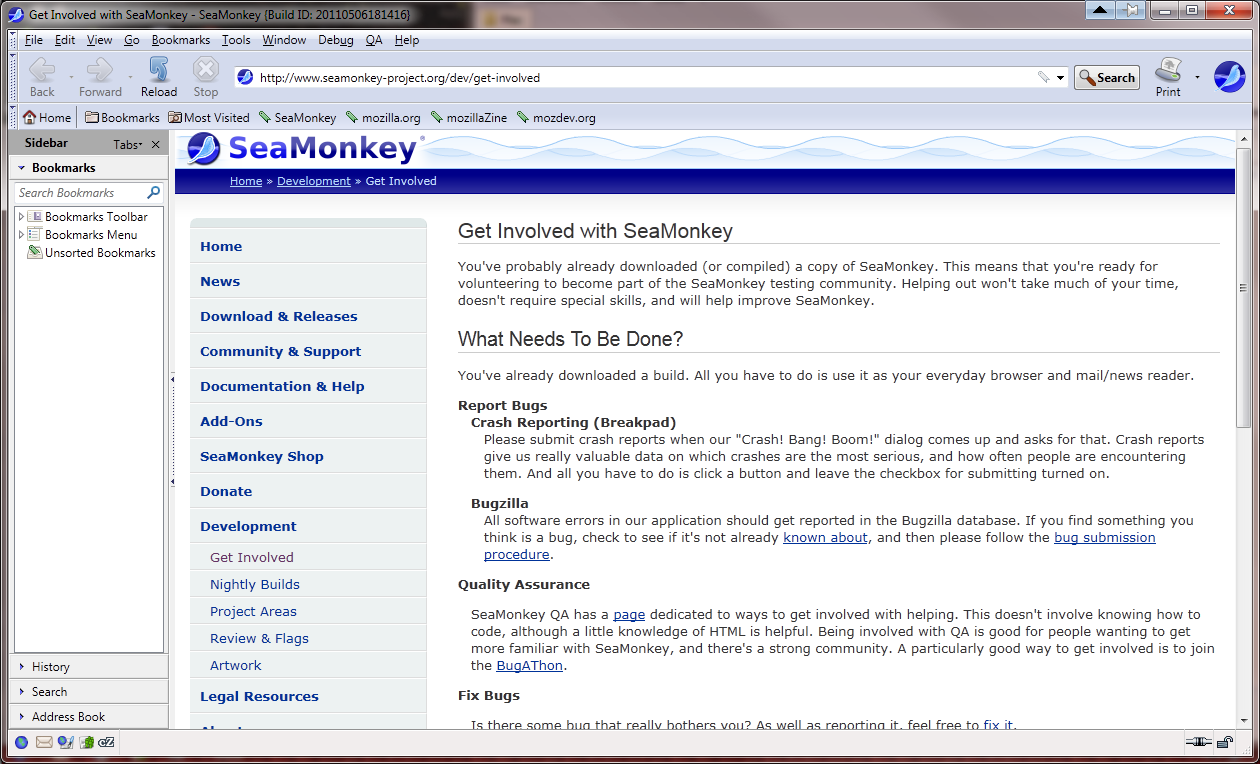 Besturingssystemen: Linux, Mac OS X, Windows Vista, Windows XP, Windows 7, Windows 8, Windows 10
Website: http://www.seamonkey-project.org/
Download NL: http://www.seamonkey-project.org/releases/
Licentietype: GNU/BSD enz.
Bron: Tweakers.net + Gratis Software Site.nl