Winlog32 is een Amateur Radio Logboek software ontworpen en werkend op alle Microsoft Windows-platforms, bijvoorbeeld 95/98/ME/NT4/2000/XP/Vista/ Windows 7/ Windows 8/ Windows 10. Deze software is reeds vele jaren in ontwikkeling en wordt voortdurend bijgewerkt. De auteur (G0CUZ) biedt deze software gratis aan voor alle Radio Amateurs en SWL's in 'HamSpirit'.
Hoewel Winlog32 in het algemeen een logprogramma is , heeft het een duidelijke inslag op DX'ing op HF en VHF met uitgebreide tracking van diverse awards programma's zoals DXCC, IOTA, WAZ, enz.
Changelog:  
Prefix update window (internal use only)
Compressed layout for better view in lower screen resolutions
A few more changes to automated sequence (auto update 'end date' if only that changed)

Icom RCW#3
Hide DDE indicator if not enabled.

Log DXCC Display
Added sort order selection (click field header)

File Maintenance.
Removed DXCC update buttons as they have been redundant for some time, the update is is now automatic when opening DXCC database.

DXCC Database updated with new entity 'Republic of Kosovo' (Open the DXCC database to automatically update DXCC list)

Updated Prefix Database.
Updated active LoTW users list.
Updated Beacon Database.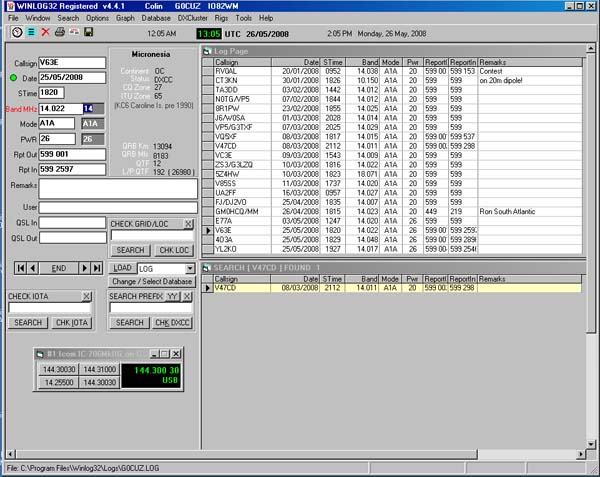 * * * VISTA / Windows 7 / Windows 8 / Windows 10
Do NOT install into ..\Program Files Folder, due to modern operating systems file security behaviour you are strongly advised NOT to install into the ..\Program Files\ folder or sub-folders thereof, choose or make another folder like C:\HAM\ or C:\WINLOG32\ etc.
Besturingssystemen: Windows
Website: http://www.winlog32.co.uk/index.htm
Download:  http://www.winlog32.co.uk/files/wl32v73.exe
Licentietype: Freeware en Betalend
£10 UK Pounds All registered users will receive a special feature add-on (maps) for Winlog32 as a 'Thank You' free of charge. It will be available to registered users only, this feature is well worth having!.