Winlog32 is een Amateur Radio Logboek software ontworpen en werkend op alle Microsoft Windows-platforms, bijvoorbeeld 95/98/ME/NT4/2000/XP/Vista/ Windows 7/ Windows 8/ Windows 10. Deze software is reeds vele jaren in ontwikkeling en wordt voortdurend bijgewerkt. De auteur (G0CUZ) biedt deze software gratis aan voor alle Radio Amateurs en SWL's in 'HamSpirit'.
Hoewel Winlog32 in het algemeen een logprogramma is , heeft het een duidelijke inslag op DX'ing op HF en VHF met uitgebreide tracking van diverse awards programma's zoals DXCC, IOTA, WAZ, enz.
Changelog:
VHF (Grid) database
Fixed bug: run-time error when querying 'VHF Only' or 'HF Only' band options.

Log DXCC Band Display window Fixed bug -run-time error when running queries with window in maximised state.

Band Display window
Fixed non-critical trapped error in default band query.

Log
Fixed non-critical trapped error when log Date = 0 (invalid date) for Prefix lookup function

Log Maintenance
Added to Date function, to include zero value dates as errors

Added JO-97; FO-99; QO-100 to SAT accepted enumeration

Plus a few cosmetic changes

Prefix database updated
Beacon Database updated
LoTW user list updated.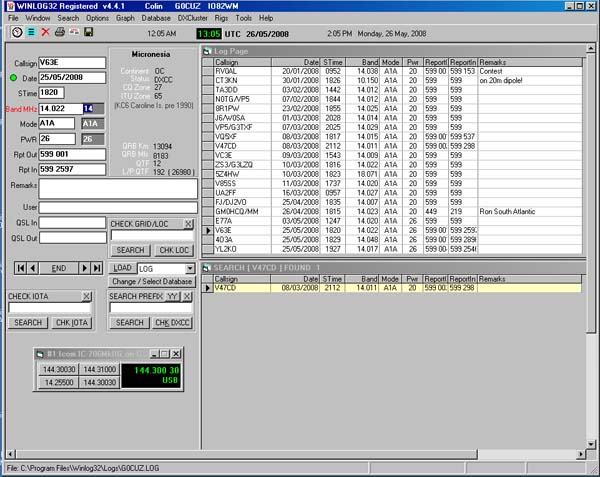 * * * VISTA / Windows 7 / Windows 8 / Windows 10
Do NOT install into ..\Program Files Folder, due to modern operating systems file security behaviour you are strongly advised NOT to install into the ..\Program Files\ folder or sub-folders thereof, choose or make another folder like C:\HAM\ or C:\WINLOG32\ etc.
Besturingssystemen: Windows
Website: http://www.winlog32.co.uk/index.htm
Download:  http://www.winlog32.co.uk/files/wl32v73.exe
Licentietype: Freeware en Betalend
£10 UK Pounds All registered users will receive a special feature add-on (maps) for Winlog32 as a 'Thank You' free of charge. It will be available to registered users only, this feature is well worth having!.