Chasys Draw Image Editing Suite (IES) is een heel uitgebreid teken- en fotobewerkingprogramma. Chasys Draw bevat verder een afbeeldingviewer en kan eveneens foto's en plaatjes converteren naar een ander formaat. Ook kan het overweg met raw-foto's. Chasys Draw wordt al 15 jaar ontwikkeld en is zeer veelzijdig.
Chasys Draw IES wordt gemaakt door John Paul Chacha. Het pakket bestaat uit een fotobewerker en tekenprogramma, fotoviewer, afbeeldingenconverteerder en raw-editor. Bij het openen van Chasys Draw krijg je de keuze uit 14 taken, maar je kunt ook gewoon een bestaande foto openen of een nieuwe afbeelding maken. Chasys ondersteunt de gebruikelijke Photoshop- en GIMP-bestandsformaten.
Verder beschikt Chasys Draw IES over zeer veel gereedschappen effecten, transformaties en aanpassingen, kan het werken met lagen, animaties maken, verschillende bewerkingen automatiseren, schermafbeeldingen of video's opnemen en cd/dvd/blu-ray labels en iconen maken. Ook kun je in batch bestanden converteren en met raw-foto's aan de slag.
Chasys Draw IES is een multifunctioneel teken- en fotobewerkingsprogramma met zeer veel mogelijkheden. Een aanrader voor gevorderde gebruikers om eens uit te proberen. Als je alleen wat simpele bewerkingen op foto's wilt uitvoeren dan is Chasys Draw IES echter overkill en zijn de vele functies wellicht intimiderend.
Nederlandse taal installeren: (plaats dit .lang-bestand in de programma-map van Chasys in de submap Language (C:\Program Files\John Paul Chacha's Lab\Chasys Draw IES\Language) en ga naar Configure | Language om Nederlands in te stellen)
Changelog: 
Single Window Mode
TextArt 2.01 with light-styles and new fill-styles
Improved clipboard (copy/paste) image handling
New tool: Projection (replaces Texture Mapper)
Perspective correction via Projection tool
New Timeline function: Soft Sine
Improved graphics engine (JpDRAW2 18.03)
Minor improvements to Automation feature
[bug fix] Portable copy crashes at start-up
[bug fix] Tool preview rendering for offset layers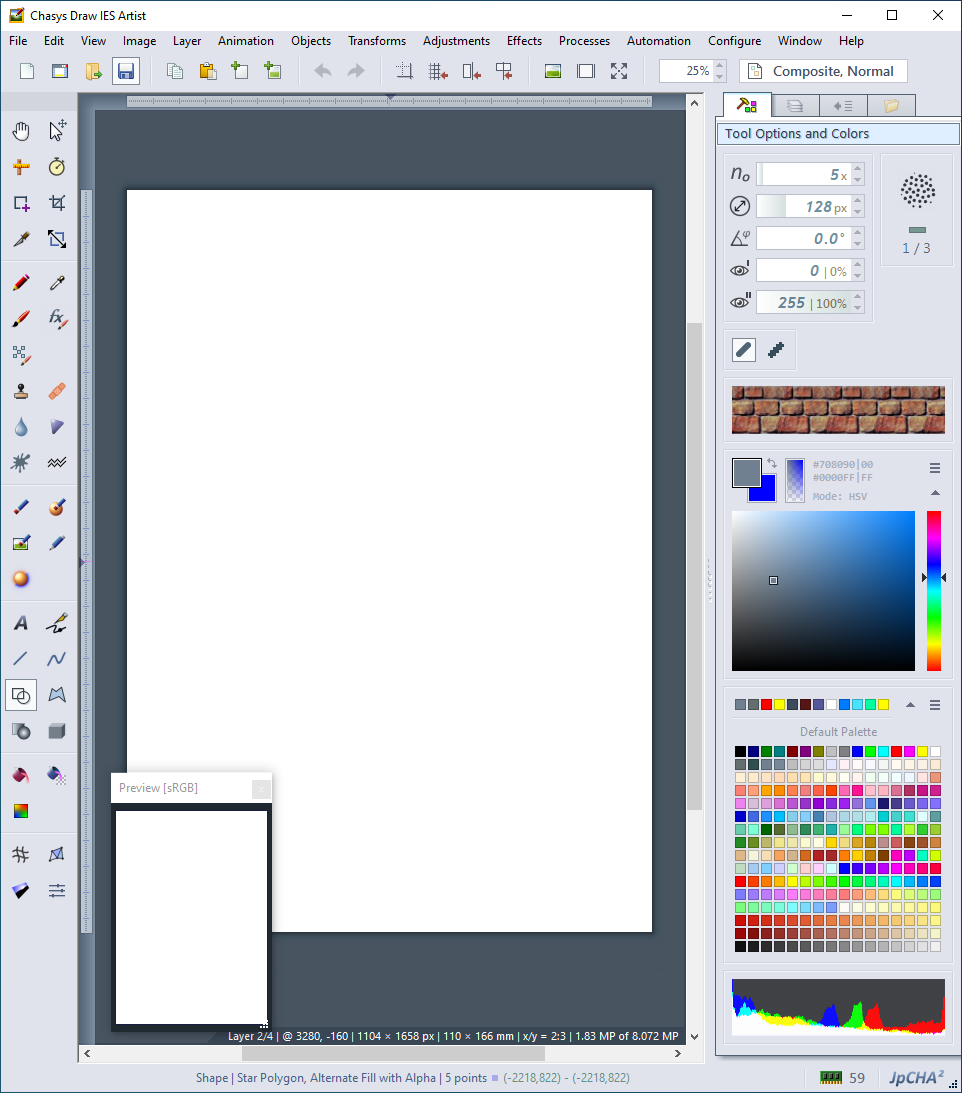 Besturingssystemen: Windows XP, Vista, Windows 7, Windows 8 , Windows 10
Website: http://www.jpchacha.com/index.php
Download: http://www.jpchacha.com/chasysdraw/download.php
Download Nederlandse taal: http://www.jpchacha.com/chasysdraw/downloads/languages/Dutch%20-%20Henny%20&%20Christien.lang
Licentietype: Freeware
Bron: Gratis Software.nl en jpchaca.com