JT65 en JT9 en FT8 zijn digimodes die nog niet bij iedere zendamateur bekend zijn. Met deze modes is het mogelijk om met beperkte antennes en vermogen DX te maken. Zo valt er op een simpele Endfed antenne en 5 Watt vermogen elke morgen wel met Australie te werken bij normale condities.
Wanneer je veel landen op veel banden gewerkt hebt, wordt het echter moeilijker om bij te houden welke DXCC's een nieuwe band voor je zijn, of wellicht geheel nieuw (voor de mode). Of heb je ze al wel gewerkt, maar zijn ze nog niet bevestigd met papieren QSL of via Logbook of the World. Down under bedacht VK3AMA hetzelfde en ontwikkelde een plug-in die een brug slaat tussen je logbook en de JT65-applicaties. En zo werd JT-alert geboren.
JT-alert is te downloaden op HamApps.com en is gratis te gebruiken. Het werkt samen met JT65-HF en WSJT-X en kan overweg met MixW, Ham Radio Deluxe, Log4OM en DXLab DXKeeper. Naast het bijhouden van gewerkte en/of bevestigde landen en banden kan de applicatie ook ingesteld worden om een melding te geven bij een nieuwe CQ-zone, US State of Grid.
JTAlert users who want to use the new WSJT-X FT8 mode need to update their JTAlert version to 2.10.1 or later.
Earlier versions of JTAlert don't recognize the new FT8 mode. This will cause logging and spotting of the wrong mode, either as JT9 or T10 depending on how old the JTAlert version. 
Provides several audio and visual alert types based on decoded Callsigns within JT65-HF and WSJT-X.
Audio and visual alerts for several alert conditions

Your Callsign decoded (someone calling you)
CQ & QRZ
Wanted Callsign
Wanted Prefix (by Ban/Mode)
Wanted Grid (by Band/Mode)
Wanted US State (by Band/Mode)
Wanted DXCC (by Band/Mode)
Wanted CQ Zone (by Band/Mode)
Wanted Continent (by Band/Mode)
Wanted CQ Marathon (by Band/Mode)
Automatic logging to these log types when QSO is logged in JT65-HF or WSJT-X

DXLab DXKeeper
ACLog
Log4OM
HRD Log V5
Standard ADIF 2.2 file
MixW CSV file
Various Web Services Supported

Online XML Callsign Database lookup. QRZ.com (paid) and HamQTH (free)
Upload logged QSO to Online Logbooks. ClubLog.org and HRDLog.net
Upload all decoded Callsigns with frequency and Signal report to HamSpots.net
Works with DXLab applications

Automatic log to DXKeeper when JT65-HF or WSJT-X QSO is logged
Automatic post decoded Callsigns to SpotCollector (local spots)
DXKeeper lookup of previous QSOs with decoded Callsign
Send Callsign to Pathfinder for lookup
Supports user-selectable Sound Card
Each audio alert type has independent volume setting & wave file
LoTW and eQSL membership flagging of decoded callsigns
Band Tracking or alerts. 160m to 2m, including 60m
Disable audio alert for "Worked B4" stations on current Band
Automatic "Worked B4" flagging of previous QSOs
Scan your log to update needs lists for alerting (US State, DXCC, CQZones, etc)
Dockable to bottom or top of JT65-HF and WSJT-X window
Bring JT65-HF or WSJT-X window to front of other windows on alert activation
Auto start & close of JT65-HF, WSJT-X and other applications on JTAlert start & close
Send TX Power and current QSO partner data "Name, Callsign & No. Bands worked" to JTMacros for dynamic macros
Changelog:

Changes:

Late logging of a WSJT-X QSO (after changing DX Call before completing the logging of the previous DX Call), initially no longer shows a Callsign Mismatch error. The log fields data from a snapshot taken (for the previous DX Call) when the DX Call was changed is used if the Callsign of the snapshot matches the logged Callsign, otherwise the Callsign Mismatch error is still shown.

Fixes:

Incorrect country for WSJT-X decode callsigns using special event words as the callsign prefix eg. POTA/Callsign, SOTA/Callsign, QRPP/Callsign, etc. (Why the recent change in operator behaviour? The convention has been to include these activation words as a suffix, eg Callsign/POTA).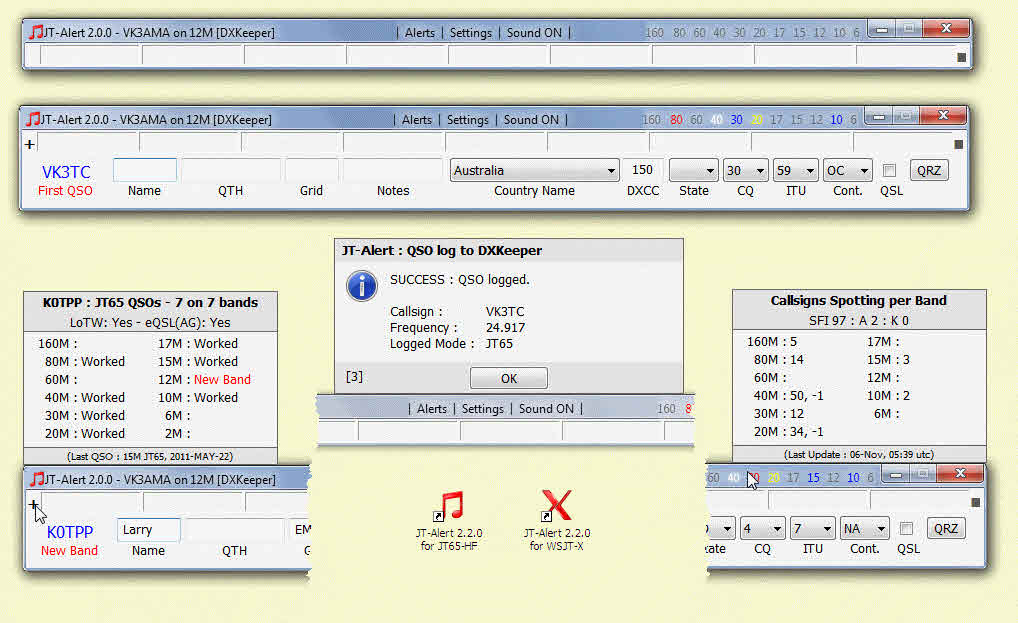 Besturingssystemen:  Windows 7 tot Windows 10
Website:  http://hamapps.com/
Download HamApps JTAlert :   https://dnl.hamapps.com/JTAlert/HamApps_JTAlert_2.12.7_Setup.exe
Download Callsign Database v2018.11.02 :  https://dnl.hamapps.com/Databases/HamApps_Databases_2018.11.02_Setup.exe
Download HamApps Sounds v2.5.1 :  http://dnl.hamapps.com/Sounds/HamApps_Sounds_2.5.1_Setup.exe
Licentietype:   Freeware
Bron:  HamApps.com