Met dit programma, dat onder een opensource licentie wordt uitgebracht, kunnen op een veilige manier bestanden binnen een lokaal netwerk (Secure Copy) of over het internet (Secure FTP) worden gekopieerd. Het programma is niet alleen als stand-alone applicatie beschikbaar, maar kan ook als plugin voor de programma's FAR en Altap Salamander worden gebruikt. Sinds kort bevat het installatiebestand een OpenCandy-sponsormodule, maar er is ook een download zonder deze adware.
Changelog:  
Translations completed: Catalan, Czech, Finnish, French, German, Hungarian, Icelandic, Italian, Japanese, Korean, Norwegian, Polish, Portuguese, Romanian, Slovak, Spanish, Swedish and Turkish.
Better error message when trying to upload a file to virtual S3 root "folder".
Displaying server name in network drive label.
When using session name as a part of a path to a temporary directory, replace a slash separating a session folder from a session name with a dash instead of %2F.
Configurable path to XML log file for the .NET assembly.
Bug fix: Failure when opening context menu of edit boxes on Login dialog.
Bug fix: Failure when processing FileTransferProgress event.
Bug fix: It was not possible to open workspace with special characters from a desktop shortcut.
Bug fix: Failure when focused panel is changed, while double-clicking a file to edit it.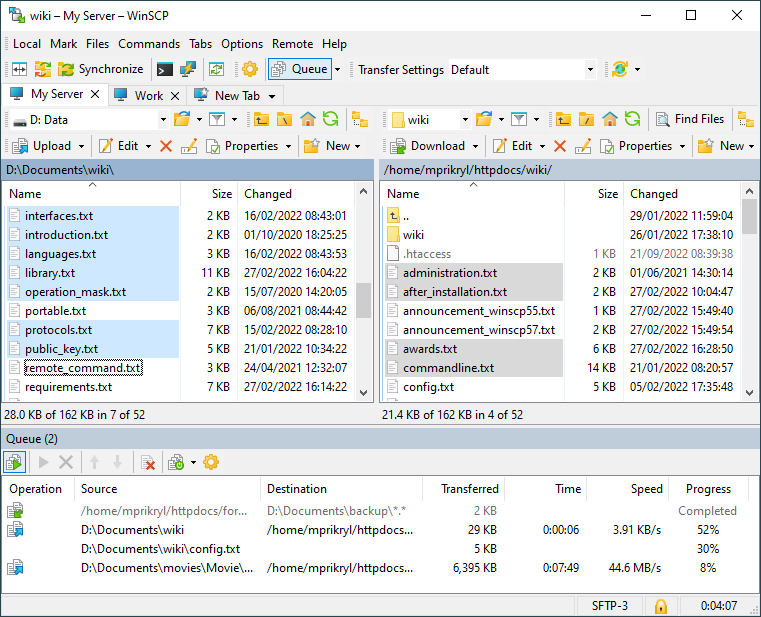 Besturingssystemen: Windows Server 2003 – 2008 – 2012, Windows Vista, Windows XP, Windows 7, Windows 8, Windows 10
Website: http://winscp.net/eng/docs/lang:nl
Download: http://winscp.net/eng/download.php
Licentietype: Freeware