MailWasher, een leider in antispamsoftware, introducerend de gemakkelijkste manier om uw e-mail te controleren en te beheren alvorens u hen downloadt.
MailWasher is vrij te gebruiken en zal nooit verlopen.
Gebruik deze krachtige antispamsoftware, betrouwbare spamblocker, die effectief e-mail spam zal tegenhouden. Ontdek de veilige manier om ongewenste e-mail tegen te houden alvorens ze op uw computer te downloaden.
Schrap ongewenste e-mail alvorens u het gehele bericht downloadt.
Zet om het even welke e-mail op de zwarte lijst
Voeg uw vrienden e-mail adressen aan MailWasher toe en zij zullen altijd erkend worden. U kunt uw vrienden van het scherm zelfs verbergen zodat spam gemakkelijk te erkennen.
Gemakkelijk bekijken van het bericht in uw e-mail alvorens het te downloaden. Tweemaal klikken op het bericht.
Bounche back ongewenste e-mail zodat het eruit ziet alsof uw e-mailadres niet geldig is.
Er is ook een PRO versie (7.11) te verkrijgen maar die is betalend.
Changelog:
Added OAUTH support for Yahoo accounts (IMAP only).
Added OAUTH support for GMail custom domains.
Fix for accessing IMAP folders containing non alphanumeric characters.
Fix for IMAP logout.
Fix for Hotmail accounts failing to check all messages.
Fix for Yahoo and POP PIPELINING failing.
Fix for moving IMAP emails when folders contain spaces.
Fix for IMAP FETCH command not being properly formed.
Fix for MailWasher not storing Read/Unread between restarts.
Fix for new mail notification increasing in count.
Fix for retrieving IMAP folders when passwords contain special characters.
Updated SSL libraries.
Updated Account and Contact Importers.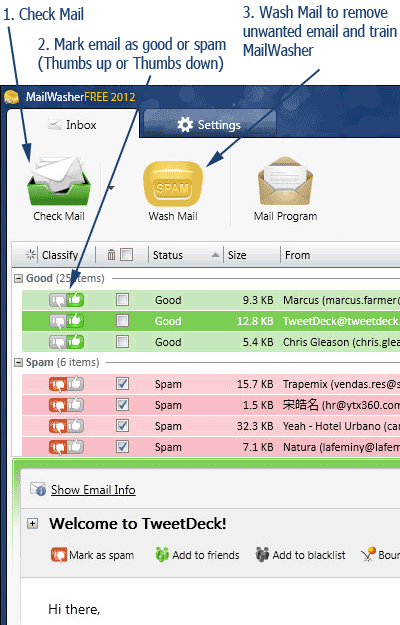 Besturingssystemen: Windows NT, 2000, XP, Vista, Windows 7, Windows 8, Windows 10
Website: http://www.mailwasher.net
Download: http://www.mailwasher.net/download-mailwasher-free
Licentietype: Freeware