HAM Office is a professional program for inputting and analysis of log data. It is based on the experience of years of logbook and many programming instructions, requests and reviews of amateur radio.
The program combines the political and physical representation of earth, continents and countries with amateur radio-specific information.Thanks to vector-oriented graphics the graphics card and can adapt to any screen resolution and are very detailed zoomable. Using the program is extremely clear and simple.
HAM Office basically offers all the important features for a thorough and appealing entry of QSO logbook data and analysis are needed. Help support functions at every step from the first startup of the program. About the extensive import features to import data from almost any office HAM logger program.
A major advantage of HAM Office are the regular data updates on the Internet that provide a database usually that is more recent than the other newly-related programs. This regular data updates are a service that is offered for the program, but they are not part of the program. They are free and not included in the program price.
The following are the main features of this program are as follows:
Enter and change the QSO data in an input window with lots of additional information
Evaluations of the most important log data in list form, tables, bar charts and maps
Importing the QSO data from all other logbook programs about import filters and ADIF
Data export: ADIF, CSV, STF, text files
Expression of all important lists
automatic generation of HTML files
current prefix cross-reference
Browse the logbook according to different criteria
Diploma evaluations
Zoomable world map and Germany with political, physical, and neutral view, Globe
in the cards degree and locator network, CQ and ITU zones, DXCC, land, prefix, DXCC information, position flag, call sign search
DX Cluster module for TNC and Telnet
SAT SAT module list and satellite tracking
UHF contest, WAG contest, many other contests
professional QSL printing on labels or cards
Access to Call Book and Internet databases (FNA, QRZ.COM, eQSL, LotW, HO WebLog)
CAT, GPS and rotor interface
Changelog:
Correction for function "Extras – Synchronization"
Improvements of the zoom function in the mask editor when creating QSL cards or labels
automatic line straightening for label printing (premium license)
Elimination of an error message when exiting the mask editor (label printing)
Mskeneditor in label printing: There the automatic conversion from RSTr to RSTs can be switched off via "Extras – Options", so that if necessary placeholders for RSTr can be placed on the label
: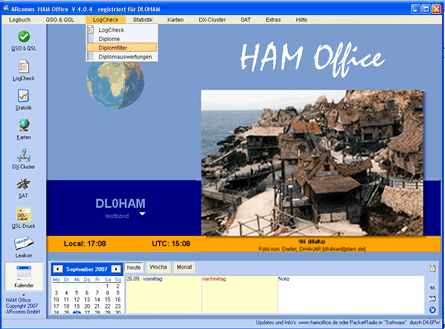 Een volledig nieuwe versie waarvoor een nieuwe registratiesleutel nodig is.Spijtig genoeg is deze versie nog steeds maar alleen in de Duitse taal beschikbaar niettegenstaande het Engels de bruikbare taal is in de wereld van de zendamateurs.
Besturingssystemen: Windows Vista, Windows 7, Windows 8, Windows 10
Website: http://www.hamoffice.de/
Download: http://www.hamoffice.de/download.htm
Licentietype: Shareware en Freeware voor clubs