JT65 en JT9 en FT8 en FT4 zijn digimodes die nog niet bij iedere zendamateur bekend zijn. Met deze modes is het mogelijk om met beperkte antennes en vermogen DX te maken. Zo valt er op een simpele Endfed antenne en 5 Watt vermogen elke morgen wel met Australie te werken bij normale condities.
Wanneer je veel landen op veel banden gewerkt hebt, wordt het echter moeilijker om bij te houden welke DXCC's een nieuwe band voor je zijn, of wellicht geheel nieuw (voor de mode). Of heb je ze al wel gewerkt, maar zijn ze nog niet bevestigd met papieren QSL of via Logbook of the World. Down under bedacht VK3AMA hetzelfde en ontwikkelde een plug-in die een brug slaat tussen je logbook en de JT65-applicaties. En zo werd JT-alert geboren.
JT-alert is te downloaden op HamApps.com en is gratis te gebruiken. Het werkt samen met WSJT-X en kan overweg met Ham Radio Deluxe, Log4OM en DXLab DXKeeper. Naast het bijhouden van gewerkte en/of bevestigde landen en banden kan de applicatie ook ingesteld worden om een melding te geven bij een nieuwe CQ-zone, US State of Grid.
JTAlert 2.14.0 no longer supports MixW logging or interoperation with JT65-HF or HB9HQX JT65-HF edition.
Users of MixW, JT65-HF or HB9HQX who wish to continue using JTAlert will need to use JTAlert 2.13.10
Provides several audio and visual alert types based on decoded Callsigns within WSJT-X.
Audio and visual alerts for several alert conditions

Your Callsign decoded (someone calling you)
CQ
Wanted Callsign
Wanted Prefix (by Band/Mode)
Wanted Grid (by Band/Mode)
Wanted US State (by Band/Mode)
Wanted VE Province (by Band/Mode)
Wanted DXCC (by Band/Mode)
Wanted CQ Zone (by Band/Mode)
Wanted Continent (by Band/Mode)
Wanted CQ Marathon (by Band/Mode)
Automatic logging to these log types when QSO is logged in JWSJT-X

DXLab DXKeeper
ACLog
Log4OM V1
Log4OM V2
HRD Log V5/V6
Standard ADIF file
Various Web Services Supported

Online XML Callsign Database lookup. QRZ.com (paid) and HamQTH (free)
Upload logged QSO to Online Logbooks. QRZ.com, eQSL.cc, ClubLog.org and HRDLog.net
Upload all decoded Callsigns with frequency and Signal report to HamSpots.net
Works with DXLab applications

Automatic log to DXKeeper when WSJT-X QSO is logged
Automatic post decoded Callsigns to SpotCollector (local spots)
DXKeeper lookup of previous QSOs with decoded Callsign
Send Callsign to Pathfinder for lookup
Supports user-selectable Sound Card
Each audio alert type has independent volume setting & wave file
LoTW and eQSL membership flagging of decoded callsigns
Band Tracking or alerts. 160m to 2m, including 60m
Disable audio alert for "Worked B4" stations on current Band
Automatic "Worked B4" flagging of previous QSOs
Scan your log to update needs lists for alerting (US State, DXCC, CQZones, etc)
Dockable to bottom or top of WSJT-X window
Bring WSJT-X window to front of other windows on alert activation
Auto start & close of WSJT-X and other applications on JTAlert start & close
Send TX Power and current QSO partner data "Name, Callsign & No. Bands worked" to JTMacros for dynamic macros
2.60.3 Install instructions for first JTAlert install.
Install the NET 6 Desktop Runtime (see links at top of this page)
Download JTAlert.2.60.3.Install.exe
Run JTAlert.2.60.3.Install.exe to install
Install the Sound and Database files (see below)
Start JTAlert
2.60.3 Upgrade instructions.
Stop JTAlert if running.
If uprading from an old JTAlert version earlier than 2.60.0,
install the NET 6 Desktop Runtime (see links at top of this page)
Download JTAlert.2.60.3.Install.exe
Run JTAlert.2.60.3.Install.exe to upgrade.
(All previous settings are saved and will not be lost)
JTAlert is now ready to run
Changelog:
 *** NOTICE : Some existing view-type callsign sorting selections of the Callsigns
               window may have been changed as a result of the new callsign sorting
               introduced with this release. This is a one-off change.

  

New:



    Callsigns Window: Callsign sort order can now be set for each view type,
     independent of other view types. See the view options popup (left-click the
     view display panel number icon, top-left of the panel header) under the
     "more options" expander control.

    Callsigns Window: Callsign tooltip can be manually shown via the right-click
     context menu, rather than the typical automatic display on mouse-hover.
     See the Callsigns window settings (click the gear icon), "Callsigns" section,
     "Allow open tooltip via menu" option.


  

Changes:



    ADIF file importer: For QSO records of maritime mobile stations, callsign
     with /MM suffix, any dxcc, continent, iota or state/province values
     contained in the record are ignored.


  

Fixes:



    CSV file importing: Hanging on malformed csv files. This fix, due to coding
     structure changes, also significantly improved the overall speed of the csv
     import routines.

    ADIF file importing: VE Provinces not being found during the adif import for
     non adif complaint adif files generated from LOGic application.

    Callsigns Window: Callsign sort order of persisted views not sorting correctly.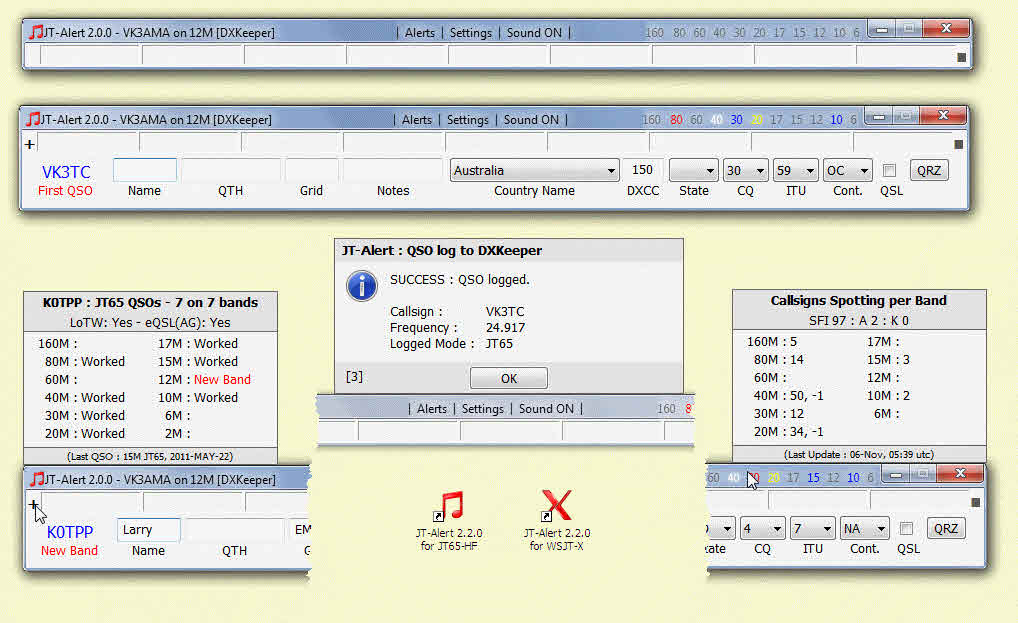 Besturingssystemen:  Windows 7 tot Windows 11
Website:  http://hamapps.com/
Download JTAlert 2.60.3: https://dnl.hamapps.com/JTAlert/31769cda3a40bcbca541e42f01bf7217
Download Desktop Runtime 6.0.11, 64 bits:  https://download.visualstudio.microsoft.com/download/pr/0192a249-3ec8-4374-a827-e186dd58d55d/cec046575f3eb2247a10ba3d50f5cf6c/windowsdesktop-runtime-6.0.11-win-x64.exe
Download Desktop Runtime 6.0.11, 32 bits:  https://download.visualstudio.microsoft.com/download/pr/2a392287-fd51-4ee8-9c15-a672ab9bc55d/03d4784b3a543a0fb9ce5677ed13a9a3/windowsdesktop-runtime-6.0.11-win-x86.exe
Download HamApps Callsign Database v2022.11.26:  https://dnl.hamapps.com/Databases/35fa57331063282329a8f7b759daa78d
Download HamApps Sounds v2.5.3 :  http://hamapps.com/Sounds/
Licentietype:   Freeware
Bron:  HamApps.com